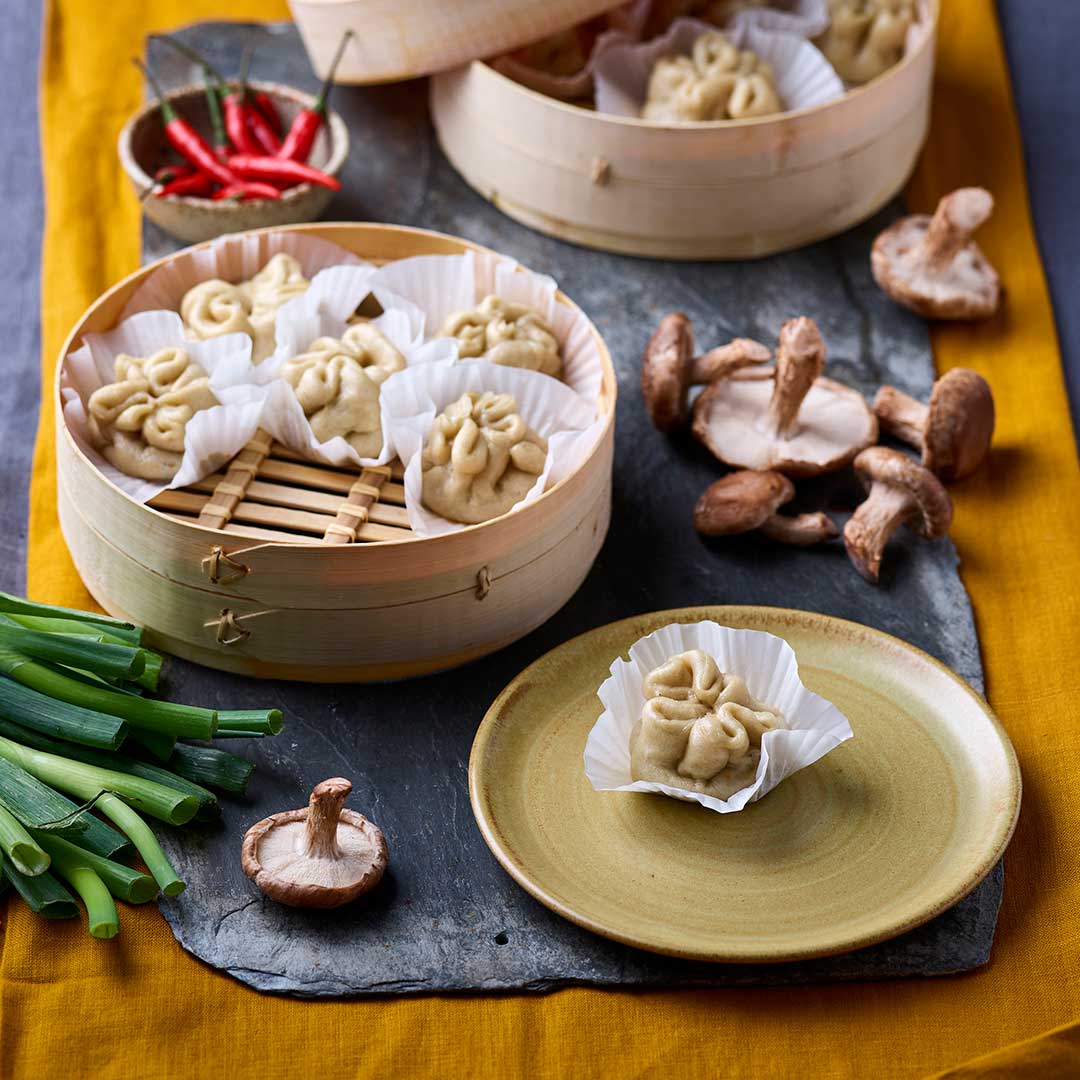 Steamed Mushroom Buns
20 minutes
16 buns
Egg,Nuts
No added sugar,Vegan,Vegetarian
About this recipe:
A tasty mushroom version of this classic snack or lunchtime treat, often found on dim sum menus. We made these steamed vegan bao buns with shitake mushrooms although you could use any kind of mushrooms. Char Sui Bao are another classic steamed snack bun.
Equipment:
jug, 2 x mixing bowls, pastry brush, steamer, wok or saucepan with the same diameter as the steamer/saucepan and 16 paper muffin cases
Ingredients:
SHITAKE MUSHROOM FILLING
250g shitake mushrooms
4 garlic cloves
2″ fresh root ginger
5 tbsp Shaohsing rice vinegar
4 tbsp soy sauce
2 tbsp hoisin sauce
1 tsp palm sugar
1 tsp five spice powder
¼ tsp ground pepper
oil, for pan
BAO BUN DOUGH
125ml tepid water
1 tsp palm sugar
100g Doves Farm Organic Plain White Flour
1 tsp Doves Farm Quick Yeast
125g Doves Farm Organic Self Raising White Flour
¼ tsp salt
1 tbsp oil
oil, for brushing
Method:
Shitake Mushroom Filling
Finely chop the mushrooms, dice the garlic and ginger.
Put a little oil into a frying pan over a medium heat, add the mushrooms and cook for a couple of minutes.
Add the garlic and ginger and cook until everything is softened but not browned.
Spoon the rice vinegar onto the mushrooms and continue cooking until it has evaporated.
Lower the heat, add the soy sauce, hoisin sauce, palm sugar, five spice powder, and pepper and stir to combine.
Remove from the heat and set aside.
Bao Bun Dough
Measure the water into a jug, add the palm sugar and stir until dissolved.
Put the plain white flour and yeast into a mixing bowl.
Pour the liquid from the jug into the bowl and stir to make a batter.
Invert a large bowl over the batter and leave in a warm place until starting to bubble, 1 – 2 hours.
Add the self raising flour, salt and oil to the bowl and stir to combine.
Gather everything together with your hands to form a ball of dough
Knead the dough for 100 presses.
Cut the dough into 16 equal pieces and roll each into a ball.
Flatten each ball of dough into a circle 75mm /3" in diameter.
Return to each circle of dough and roll it into a 10-12cm /4-5" circle.
Steamed Mushroom Buns
Brush oil around the inside of 16 paper muffin cases using a pastry brush and arrange them in the steamer baskets.
Divide the mushroom filling into piles in the middle of each 10-12cm /4-5" dough circle.
Pull the outside edges of the dough circles up and over the filling, pinching and twisting them together to seal at the top of each bun.
Lift the buns into the prepared muffin cases.
Cover with an upturned bowl and leave in a warm place to rise for 35-40 minutes.
Quarter fill a wok or saucepan with boiling water and put it on a medium heat.
Place the steamer baskets on top and steam for 20 minutes. Halfway through cooking, check the water has not all evaporated.
The buns are best served warm but also good when cold.
To re-heat the buns put them back into the steamer over boiling water for 10 minutes.