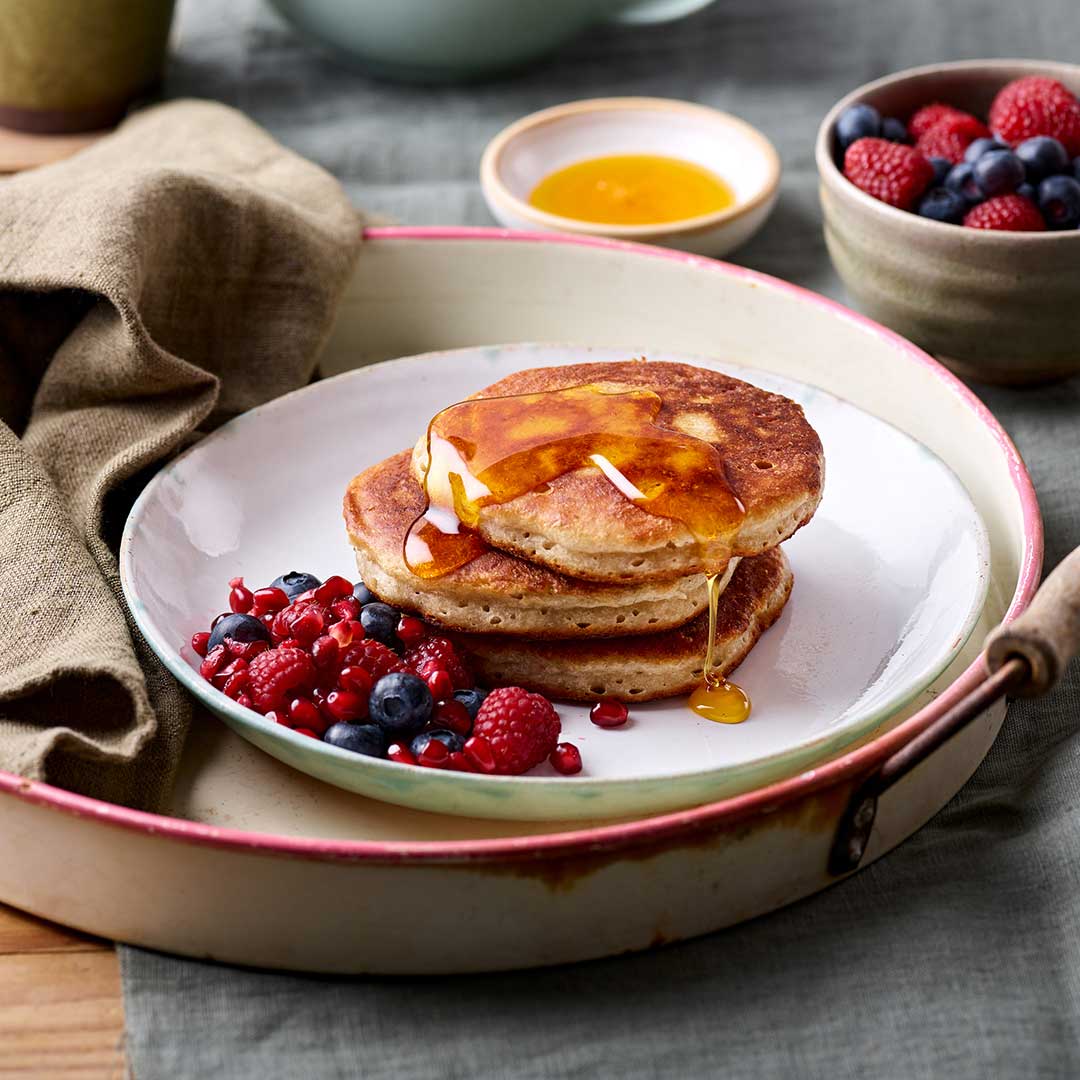 Vegan Buckwheat Breakfast Pancakes
30 minutes
8-10 pancakes
Dairy,Egg,Nuts
Vegan,Vegetarian,Without crystal sugar
About this recipe:
There is no need for eggs or dairy in this easy recipe for vegan pancakes made with buckwheat flour and your favourite vegan milk. They can be served warm with stewed or fresh fruit or maple syrup and are also delicious cold spread with peanut butter or jam.
Equipment:
frying pan and mixing bowl
Ingredients:
150g Doves Farm Organic Wholemeal Buckwheat Flour
2 tbsp Doves Farm Organic Chickpea Flour
2 tbsp icing sugar
1 tsp Doves Farm Baking Powder
pinch of salt
200ml vegan milk
4 tbsp oil
1 tsp lemon juice
oil, for frying
Method:
Sieve the buckwheat flour, chickpea flour, icing sugar, baking powder and salt into a bowl and mix together well.
Add half the vegan milk, oil and lemon juice and beat until smooth.
Stir in the remaining milk.
Put a little oil into a frying pan, roll it around to cover the surface and heat until the pan is nice and hot.
Pour some batter into the pan to make 7.5-10cm/3-4" circles and cook over a medium heat.
When bubbles appear on the surface and the base is golden, 2-4 minutes, turn the pancakes over and cook the other side for another 1-2 minutes.
Transfer the cooked pancakes to a plate.
Repeat until the batter is used.