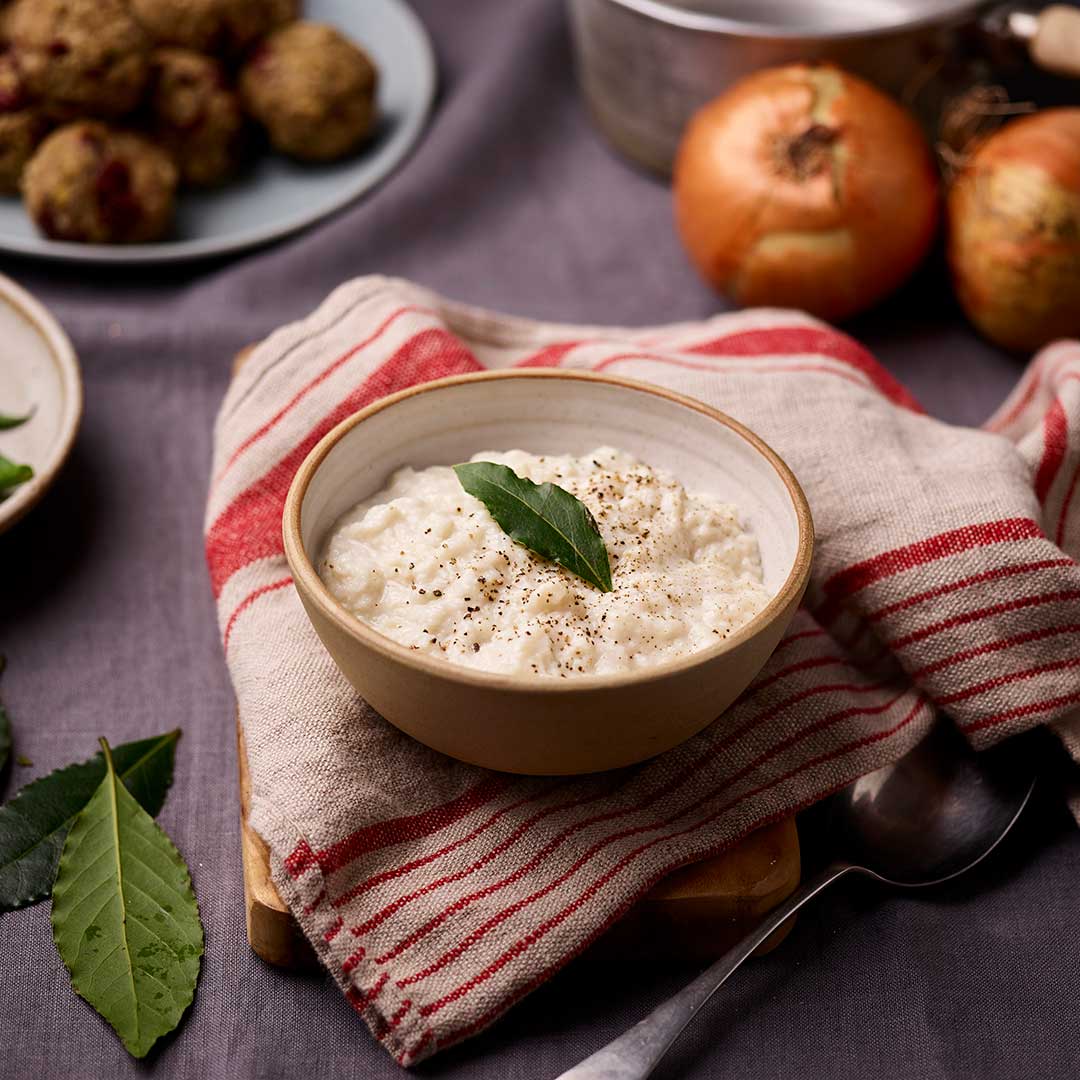 Vegan Bread Sauce
No reviews yet. Be the first to review this recipe.
About this recipe:
For many people bread sauce is one of the traditional accompaniments with a celebratory meal. You can use any bread, alternatively you could make your own such as White Spelt Bread Machine Loaf or Sourdough Bread Cob, then eat the crusts and use the crumb to make this sauce. Bread sauce can be made a day in advance, chilled or frozen then re-heated to serve with your meal.
Equipment:
saucepan, baking tray and serving dish
Ingredients:
75g bread
1 small onion
6 cloves
1 bay leaf
325ml oat milk
25g vegan baking block
pinch of salt
pinch of pepper
pinch of nutmeg, optional
extra milk, for consistency
Method:
Preparing the Breadcrumbs
Remove the crusts from the bread, cut the bread into slices and then into chunks.
Using your fingers, break the chunks into crumbs and spread them out on a baking tray.
Cover loosely with a clean tea towel and leave overnight to stale.
Break the stale crumb into breadcrumbs.
If not using immediately the breadcrumbs can be bagged and frozen for up to three months.
Vegan Bread Sauce
Peel the onion and press the cloves into the top, bottom and sides.
Put the onion and bay leaf into a saucepan, add the oat milk, bring to the boil and simmer gently for 5 minutes.
Add the breadcrumbs, stir and bring back to the boil.
Remove the pan from the heat, cover and leave for 2–24 hours. When cold refrigerate as necessary.
Gently re-heat the sauce about 20 minutes before it is going to be required.
Add the vegan baking block, salt, pepper and nutmeg if used.
Stir in a little extra milk as needed to reach preferred consistency.
Keep warm until required.
Stir the bread sauce and pour it into the serving dish discarding the onion and bay leaf.
Leave a review?