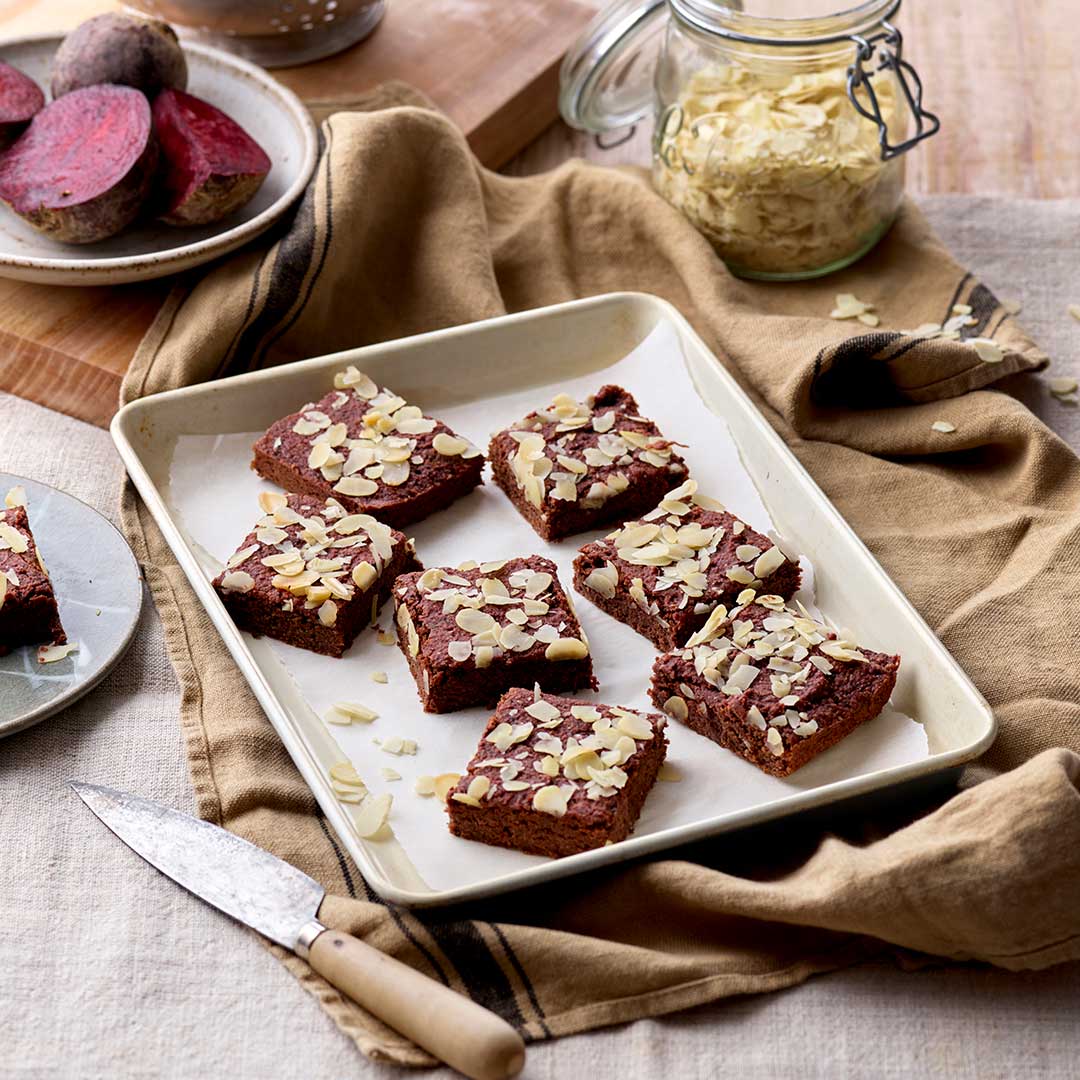 Beetroot and Almond Sugar Free Traybake
35 minutes + 25 minutes
1 traybake
Dairy,Egg
No added sugar,Vegan,Vegetarian,Wholemeal
About this recipe:
A plant-based, wholemeal, traybake incorporating roast beetroot for natural sweetness. This bake is also egg free making it a great vegan alternative.
Equipment:
15 x 20cm/6 x 8" baking tray, kitchen foil, food processor and mixing bowl
Ingredients:
200g beetroot
100g coconut oil, melted
1 tbsp vanilla extract
1 tsp chia seeds
1 tbsp cocoa
50ml boiling water
100g Doves Farm Self Raising Wholemeal Flour
25g ground almonds
25g flaked almonds
oil, for baking tray
Method:
220°C, Fan 200°C, 425°F, Gas 7 for 35 minutes + 180°C, Fan 160°C, 350°F, Gas 4 for 25 minutes
Pre-heat the oven to the higher temperature.
Rub some oil around the inside a 15x20cm/6×8" baking tray or insert a baking liner
Cut the beetroot into 2cm/¾" cubes, put them in the dish, sprinkle with oil and shake to coat.
Bake for 35 minutes.
Turn the oven off, remove from the baking tray, cover with kitchen foil and leave to cool.
Pre-heat the oven at the lower temperature.
Put the beetroot into a food processor, add the coconut oil, vanilla extract and chia seeds and pulse into a puré
Measure the cocoa and boiling water into a bowl, stir into a paste, add it to the food processor and pulse to mix.
Now add the flour and ground almonds to the bowl and mix everything into a smooth paste.
Tip the mix into the prepared baking tray spreading it out to the edges.
Sprinkle the flaked almonds over the top.
Bake for 25 minutes.
Leave the cake in the tray to cool then cut into squares or rectangles.