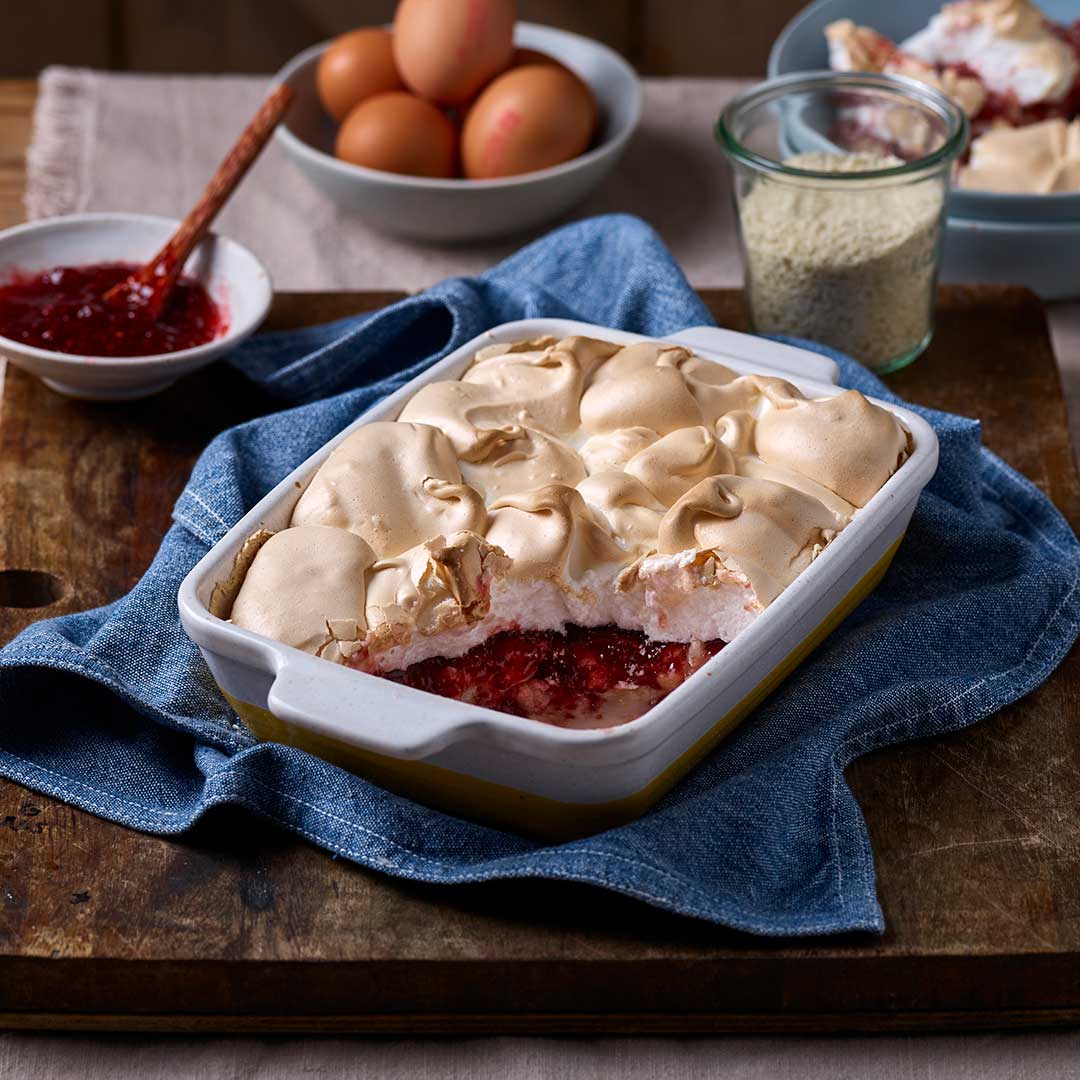 Queen of Puddings
No reviews yet. Be the first to review this recipe.
About this recipe:
A spectacular layered pudding based on ingredients found in most kitchen cupboards – bread, milk, sugar, egg and jam. The three stages of making this traditional dish can be separated allowing you to make stages one or two in advance leaving the meringue topping until the last moment. Use white or brown bread to make the breadcrumbs or crumble up some sponge cake.
Equipment:
saucepan, 1lt/2pt ovenproof dish, electric beaters and mixing bowl
Ingredients:
STEP ONE
425ml milk
1 lemon rind
STEP TWO
3 egg yolks
50g caster sugar
75g breadcrumbs
butter, for dish
STEP THREE
4 tbsp raspberry jam
3 egg whites
¼ tsp Doves Farm Vitamin C
125g caster sugar
Method:
170°C, Fan 150°C, 325°F, Gas 3 for 20-25 minutes + 200°C, Fan 180°C, 400°F, Gas 6 for 25–30 minutes
Step 1
Put the milk into a saucepan,
Cut a long strip of lemon rind and add it to the pan.
Bring the milk to the boil, remove from the heat and leave to stand and infuse for at least 30 minutes.
Step 2
Pre-heat the oven.
Rub some butter around the inside of a 1lt/2pt ovenproof dish.
Put the egg yolks and sugar into a bowl and whisk together until pale and thickened.
Remove the lemon rind from the prepared milk and beat it into the eggs.
Stir in the breadcrumbs.
Pour the mixture into the prepared oven dish.
Bake in a preheated oven for 20-25 minutes, until just set.
Remove from the oven and leave to stand for at least 15 minutes.
Step 3
Increase the oven temperature to 200°C, Fan 180°C, 400°F, Gas 6.
Warm the jam slightly and spread it over the prepared pudding base.
Put the egg whites and vitamin C, if used, into a bowl and whisk until stiff.
Continue beating, adding the sugar a little at a time.
Spoon the egg white mixture over the jam, spreading it out over the top.
Bake for 25-30 minutes until the meringue is crisp and golden on top.
Leave a review?