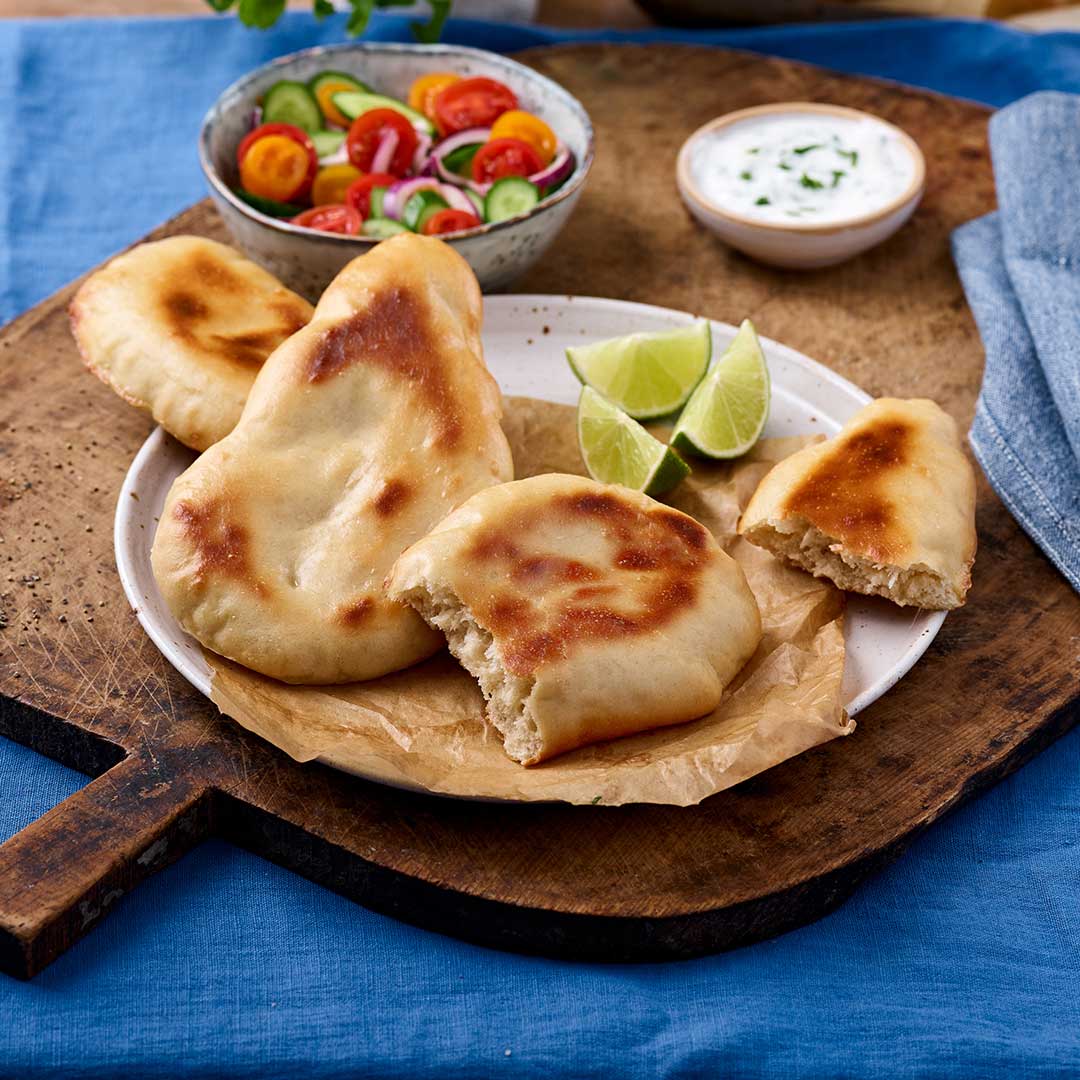 Naan Bread
16-20 minutes
6 naan breads
Egg,Nuts
Vegetarian
About this recipe:
A yeasted flat bread of Indian origin, warm naan breads are a great accompaniment to spicy soups and stews. Naan Breads are typically cooked in the high temperature of a tandoor oven, so it is important to pre-heat your oven to its highest temperature before you start baking.
Equipment:
large baking tray, kitchen foil, measuring jug and 2 x mixing bowls
Ingredients:
150g natural yoghurt
100ml tepid water
350g Doves Farm Organic Self Raising White Flour
1 tsp Doves Farm Quick Yeast
1 tsp sugar
¼ tsp salt
50g butter, melted
flour, for dusting
Method:
240°C, Fan 220°C, 475°F, Gas 9
Measure the yogurt and water into a jug and stir to combine.
Put the flour, quick yeast, sugar into a large bowl and blend them together.
Add the prepared yogurt liquid, stir gently then add the salt.
Using your hands gather everything together, gently pressing into a slightly sticky ball of dough.
Knead the dough in the bowl for 100 presses without adding flour.
Cover the dough bowl with a large upturned mixing bowl and leave it in a warm place for the dough to double in size, which will take about an hour.
Sprinkle flour over one large baking tray or insert a baking liner.
Sprinkle the dusting flour onto a work surface, turn out the dough and cut it into six pieces.
Gently tease each dough piece into a 25x12cm/10×5" oval or teardrop shape.
Cover and leave to rise for up to 90 minutes.
Baking Naan
Pre-heat the oven 20 minutes before you are going to bake.
Check the oven temperature has reached its maximum.
Put the baking tray into the oven to heat up for 5 minutes.
Working quickly and carefully, open the oven door and lay three dough pieces, onto the hot baking tray.
Bake for 4-5 minutes.
Turn the naan over and bake for a further 4-5 minutes.
Remove the naan from the oven.
Check the oven temperature has returned to maximum heat and cook the remaining naan.
Melt the butter and brush it all over the cooked naan.
Wrap the naan in kitchen foil and re-heat before serving warm.