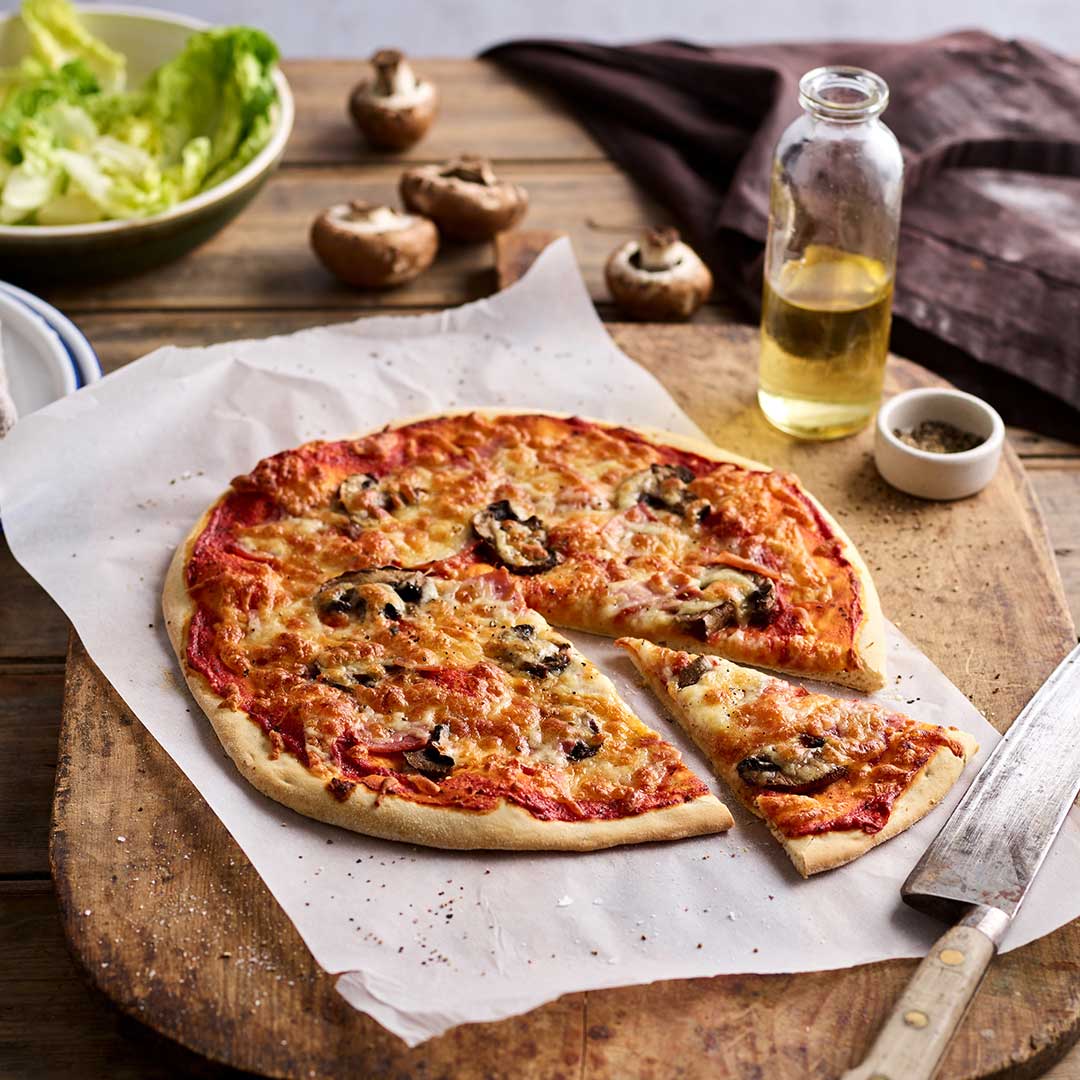 Mushroom and Ham Pizza
No reviews yet. Be the first to review this recipe.
15-20 minutes
1 pizza
Egg,Nuts
No added sugar
About this recipe:
This classic combination is a crowd pleaser, baking up a tasty 30cm/12''pizza. You can swap the flour to strong white and use almost any kind of mushrooms, any type of ham or bacon and whatever cheese you have available. For best results make sure your oven is nice and hot before cooking.
Equipment:
large baking tray, 2 mixing bowls, clean tea towel and pastry brush
Ingredients:
PIZZA BASE
150g Doves Farm Organic Pasta Flour
½ tsp Doves Farm Quick Yeast
¼ tsp salt
100ml tepid water
1 tsp olive oil
MUSHROOM AND HAM TOPPING
125g mushrooms
100g ham
75g cheese
75g tomato purée
1 tbsp water
1 tbsp olive oil
2 tsp oregano
1/8 tsp brown sugar
1/8 tsp salt
1/8 tsp pepper
flour, for tray
Method:
220°C, Fan 200°C, 425°F, Gas 7
Pizza Base
Put the flour, yeast, and salt into a large bowl and blend them together.
Stir in the water, and when everything looks craggy and lumpy, stir in the oil.
Using your hands gather everything together into a doughy mass.
Knead dough in the bowl for 100 presses.
Invert another bowl over the top and leave in a warm place, for the dough to double in size, about an hour. The dough can rest longer if necessary.
Dust a large baking tray with flour and pre-heat the oven.
Knead the dough for another 100 presses.
Gently roll and stretch the dough into a 30cm/12''circle and lay it on the prepared baking tray.
Mushroom and Ham Topping
Slice the mushrooms, roughly chop the ham and cut the cheese into 1cm/⅜" cubes.
Put the tomato purée into a bowl, add the water, olive oil, oregano, brown sugar, salt and pepper and mix together well.
Gently spread the tomato purée over the pizza dough.
Spread the mushrooms, ham and cheese over the top.
Cover loosely with a clean tea towel and leave in a warm place for 20 minutes.
Bake for 15-20 minutes.
Leave a review?