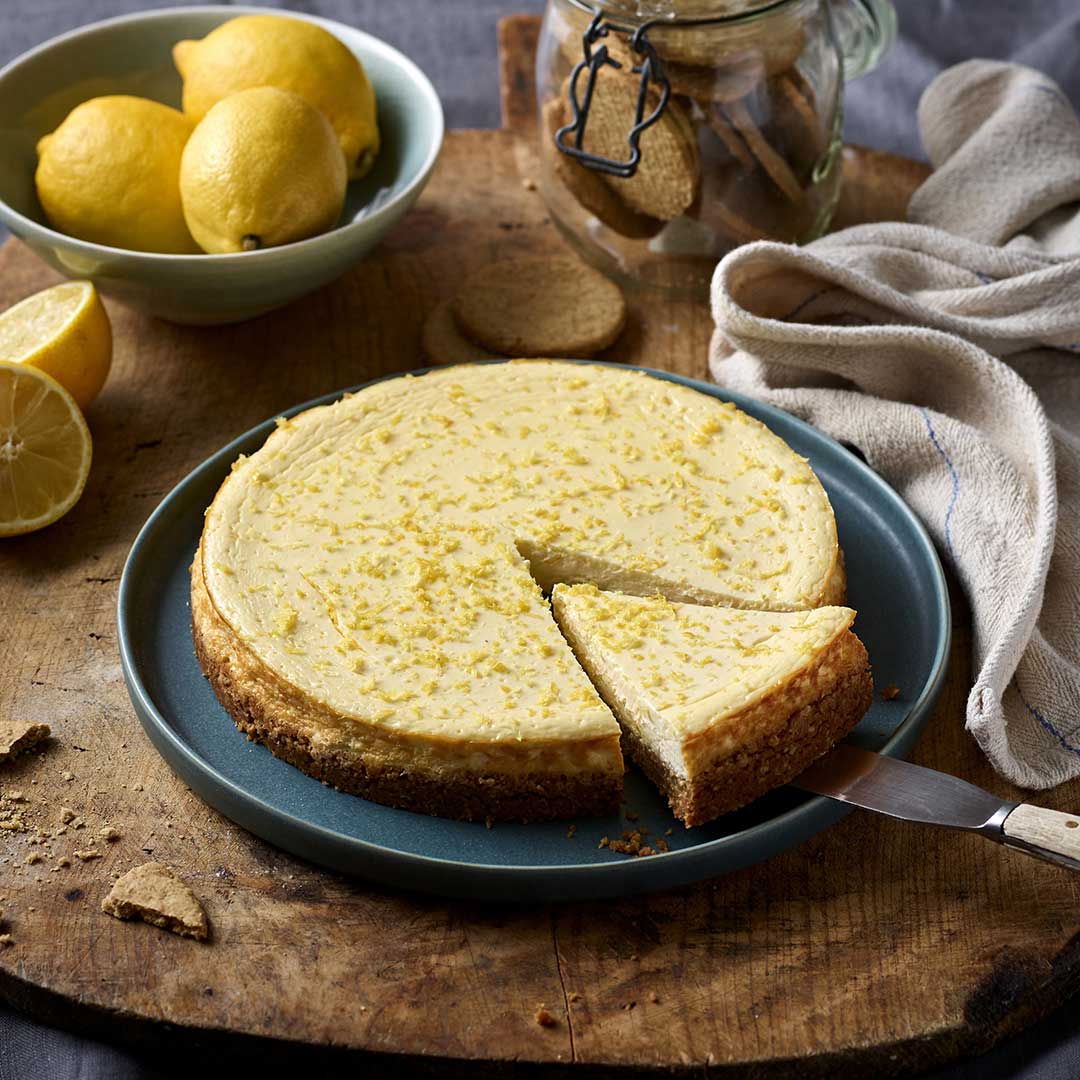 Lemon and Ginger Cheesecake
No reviews yet. Be the first to review this recipe.
30-35 minutes
1 cheesecake
Nuts
Vegetarian
About this recipe:
Lemon and fresh ginger root combine harmoniously in this moreish cheesecake. This delicious dessert could also be a special occasion treat, served with a cup of coffee.
Equipment:
7"/18cm round dish or loose bottomed tin, large mixing bowl, zester, grater and whisk
Ingredients:
GINGER OAT BISCUIT BASE
150g Doves Farm Organic Ginger Oat Biscuits
75g butter
LEMON AND GINGER CHEESECAKE
1 tsp lemon zest, strips
1 tbsp lemon rind, grated
1 tsp fresh ginger, grated
200g full fat cream cheese
125g crème fraîche
2 tbsp light brown sugar
2 tbsp lemon juice
1 egg
butter, for tin
Method:
170°C, Fan 150°C, 325°F, Gas 3
Ginger Oat Biscuit Base
Rub some butter around the inside of a 7"/18cm round dish or loose-bottomed tin and pre-heat the oven.
Crush the biscuits into fine crumbs in a bag or food processor and tip them into mixing bowl.
Melt the butter, stir in the crushed biscuit crumb and mix well.
Press the mixture into the prepared dish.
Lemon and Ginger Cheesecake
Make a teaspoon of lemon zest strips, cover and set aside for the topping.
Finely grate a tablespoon of lemon zest into a mixing bowl.
Finely grate a teaspoon of ginger into the bowl.
Add the cream cheese, crème fraîche, sugar, lemon juice and egg, and whisk together.
Pour onto the biscuit base and smooth the top.
Bake for 30-35 minutes.
Allow to cool in the tin before turning out.
Chill and decorate the top with the prepared lemon zest before serving.
Leave a review?