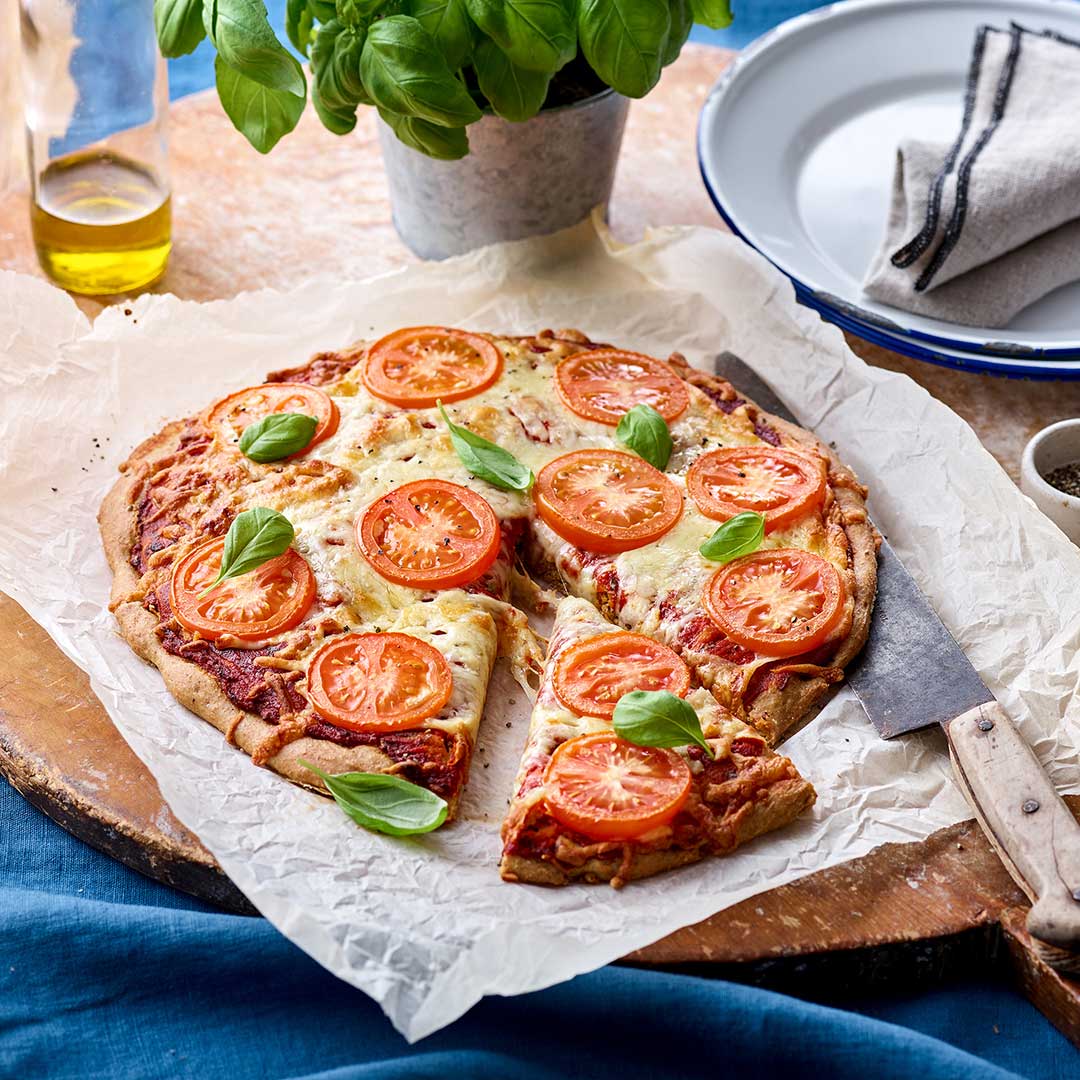 Wholemeal Einkorn Pizza with Cheese and Tomato Topping
No reviews yet. Be the first to review this recipe.
12-18 minutes
1 pizza
Egg,Nuts
Vegetarian,Wholemeal
About this recipe:
Made with Einkorn ancient grain flour, this rustic pizza is packed with flavour. This thick crust pizza does not require any kneading.
Equipment:
large oven tray and 2 x mixing bowls
Ingredients:
EINKORN PIZZA DOUGH
250g Doves Farm Organic Wholemeal Einkorn Flour
1 tsp Doves Farm Quick Yeast
½ tsp salt
175ml water
2 tbsp olive oil
oil, for tray
basil leaves, to serve
CHEESE AND TOMATO TOPPING
125g tomato puree
2 tbsp olive oil
1 tbsp water
pinch of salt
pinch of pepper
1 tbsp basil, chopped
100g cheese, grated
3 tomatoes, thinly sliced
Method:
240°C, Fan 220°C, 475°F, Gas 9
Einkorn Pizza Dough
Put the flour and yeast into a large bowl and blend them together.
Add the water and stir until lumpy.
Sprinkle the salt over the top and stir again.
Add the oil and continue mixing to form a slightly sticky, doughy mass. Avoid kneading or adding flour.
Scatter some flour on a large oven tray.
Tip the dough onto the prepared tray.
Invert the mixing bowl over the tray and leave it in a warm place to rise for 1-2 hours.
Cheese and Tomato Topping
Pre-heat the oven 20 minutes before baking.
Measure the tomato puree into a bowl, add the oil, water, salt and pepper and stir to combine.
Remove the bowl from the tray and spread the tomato topping over the pizza base.
Scatter the basil leaves over the pizza.
Grate the cheese over the top.
Slice the tomatoes thinly and lay them on the cheese.
Bake for 12-18 minutes.
Serve with more basil leaves to decorate.
Leave a review?