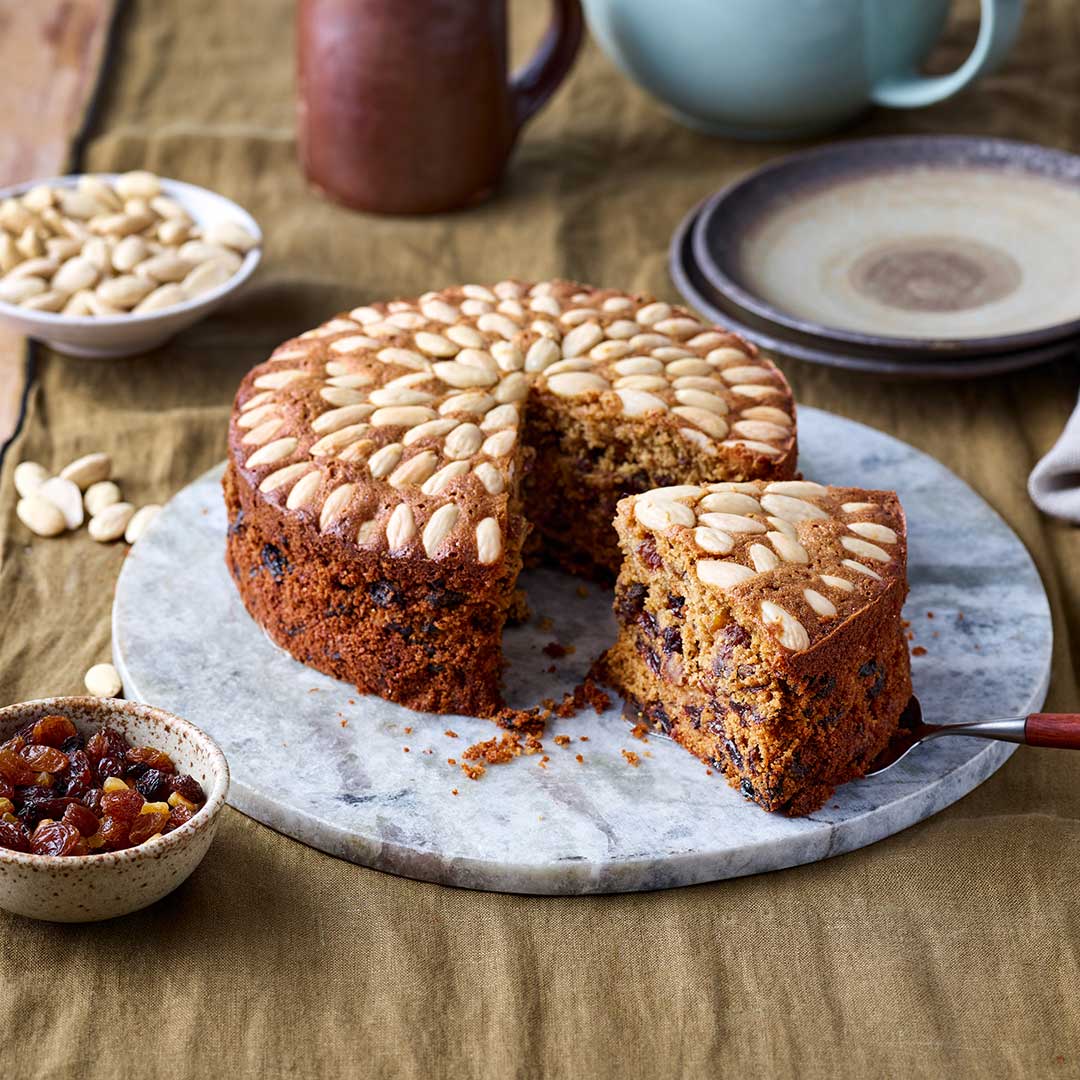 Wholemeal Dundee Fruit Cake
No reviews yet. Be the first to review this recipe.
1¾ - 2 hours
1 cake
Vegetarian,Wholemeal
About this recipe:
This classic fruit cake has a long Scottish pedigree. It typically includes marmalade and is finished with a decorative arrangement of almonds on the top. Dundee Cake makes a good alternative to an iced celebration cake for those who don't like cherries, marzipan or icing.
Equipment:
20cm/8″ round deep, loose bottom cake tin, parchment paper, greaseproof or brown paper, 2 x mixing bowls and saucepan
Ingredients:
DUNDEE FRUIT CAKE
100g marmalade
2 tbsp milk
400g mixed dried fruit
150g Doves Farm Organic Fine Plain Wholemeal Flour
1 tsp Doves Farm Baking Powder
125g butter
125g soft brown sugar
3 eggs
oil, for tin
ALMOND TOPPING
100g blanched almonds
Method:
150°C, Fan 130°C, 300°F, Gas 2
Dundee Fruit Cake
Pre-heat the oven.
Rub some oil around the inside of a 20cm/8″ round deep, loose bottom cake tin or insert a baking liner.
Cut a 300mm/12" square of parchment paper, greaseproof or brown paper, fold the corners to meet in the middle, press to make folded flaps and save for later.
Put the marmalade, milk and mixed dried fruit into a saucepan.
Heat the pan, stirring occasionally until the marmalade has melted then remove from the heat.
Measure the flour and baking powder into a bowl, stir to combine and sieve into another bowl, adding any bran that is left in the sieve.
Chop the butter into cubes and put them in a mixing bowl.
Add the sugar and beat together until light and fluffy.
Break the eggs into the bowl one at a time, beating well between each addition.
Tip the prepared flour into the bowl and mix well.
Add the prepared fruit, stirring until fully combined.
Tip the mixture into the prepared tin and smooth the top.
Almond Topping
Lay the almonds into the top of the cake in a circular pattern.
Place the prepared paper square over the cake tin with the folded flaps pointing down to loosely cover the tin when it goes into the oven.
Bake for 1¾ hours then look to see how the cake is cooking. It will probably need another 15 minutes cooking. When a cocktail stick pressed into the centre of the cake comes out clean, it is cooked.
Allow to cool in the tin before turning out onto a wire rack.
When quite cold, wrap the cake in kitchen foil and store in a tin for up to 6 weeks.
Leave a review?