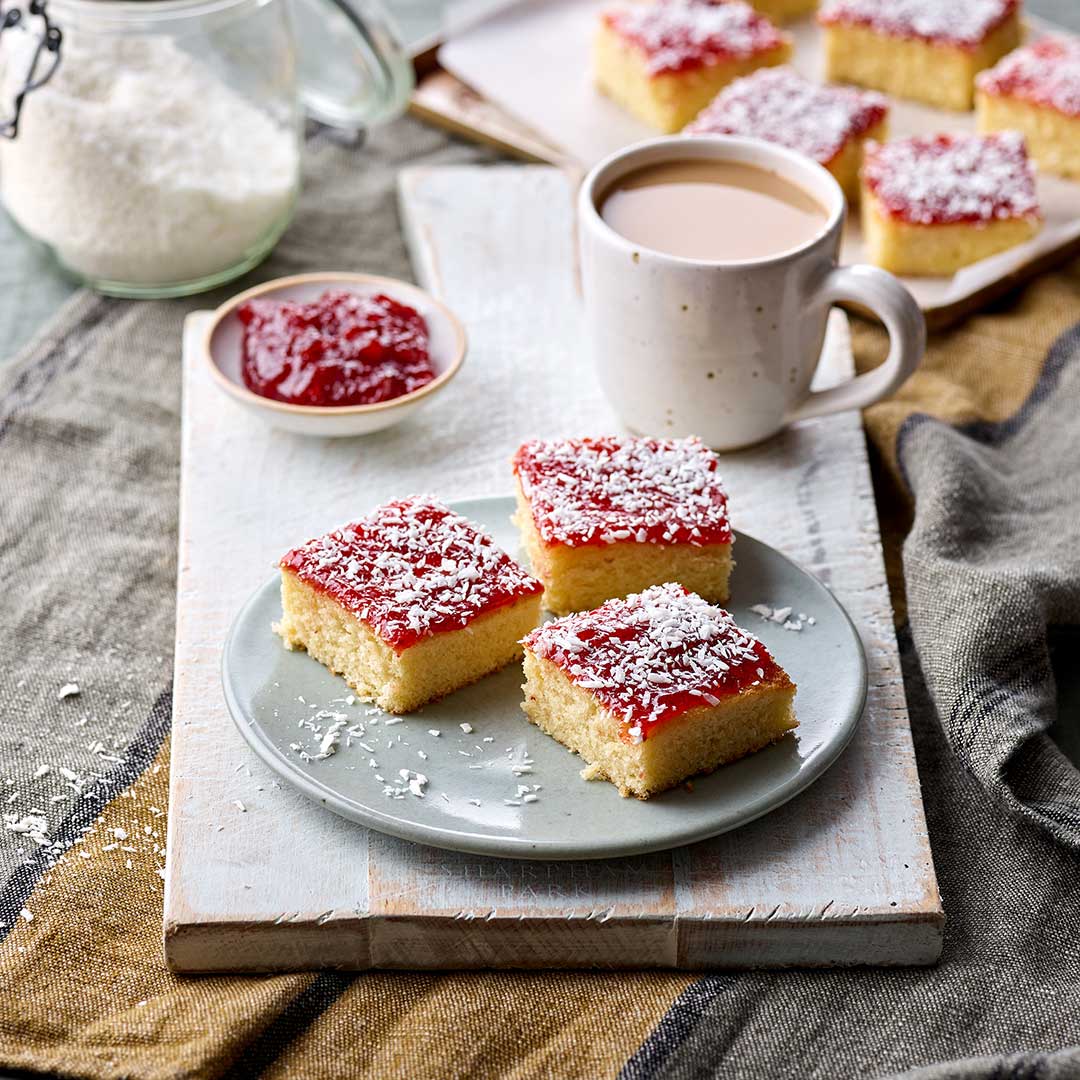 Coconut Flour Jam and Coconut Traybake
40-45 minutes
1 traybake
Dairy,Gluten,Nuts,Wheat
Vegetarian
About this recipe:
A classic tea time treat, this traybake cake is sometimes known as school cake, because it was often served at lunchtime in English schools. The coconut flour goes a long way in this sponge cake which is dairy free and lower in carbs than some other cakes.
Equipment:
18 x 23cm/7 x 9" baking tray, chopping board and 2 x mixing bowls
Ingredients:
COCONUT SPONGE CAKE
25g Doves Farm Organic Coconut Flour
25g tapioca flour
2 tsp Doves Farm Baking Powder
3 eggs
75g caster sugar or xylitol
50g oil
oil, for tray
COCONUT TOPPING
6 tbsp strawberry jam
2 tbsp desiccated coconut
Method:
180°C, Fan 160°C, 350°F, Gas 4
Pre-heat the oven.
Rub some oil around the inside of an 18 x 23cm/7 x 9" baking tray or insert a baking liner.
Measure the flour, tapioca and baking powder into a bowl, stir to combine and sieve into another bowl.
Break the eggs into a mixing bowl, add the sugar or xylitol and beat well.
Beat in the oil.
Stir in the prepared flour mix.
Pour into the prepared baking tray, smoothing out to the edges.
Bake for 40-45 minutes.
Allow the cake to cool in the tray.
Put a chopping board over the tin and invert the two to turn out the cold cake.
Spread the jam over the sponge.
Sprinkle the coconut over the jam.
Slice the cake into squares or triangles to serve.