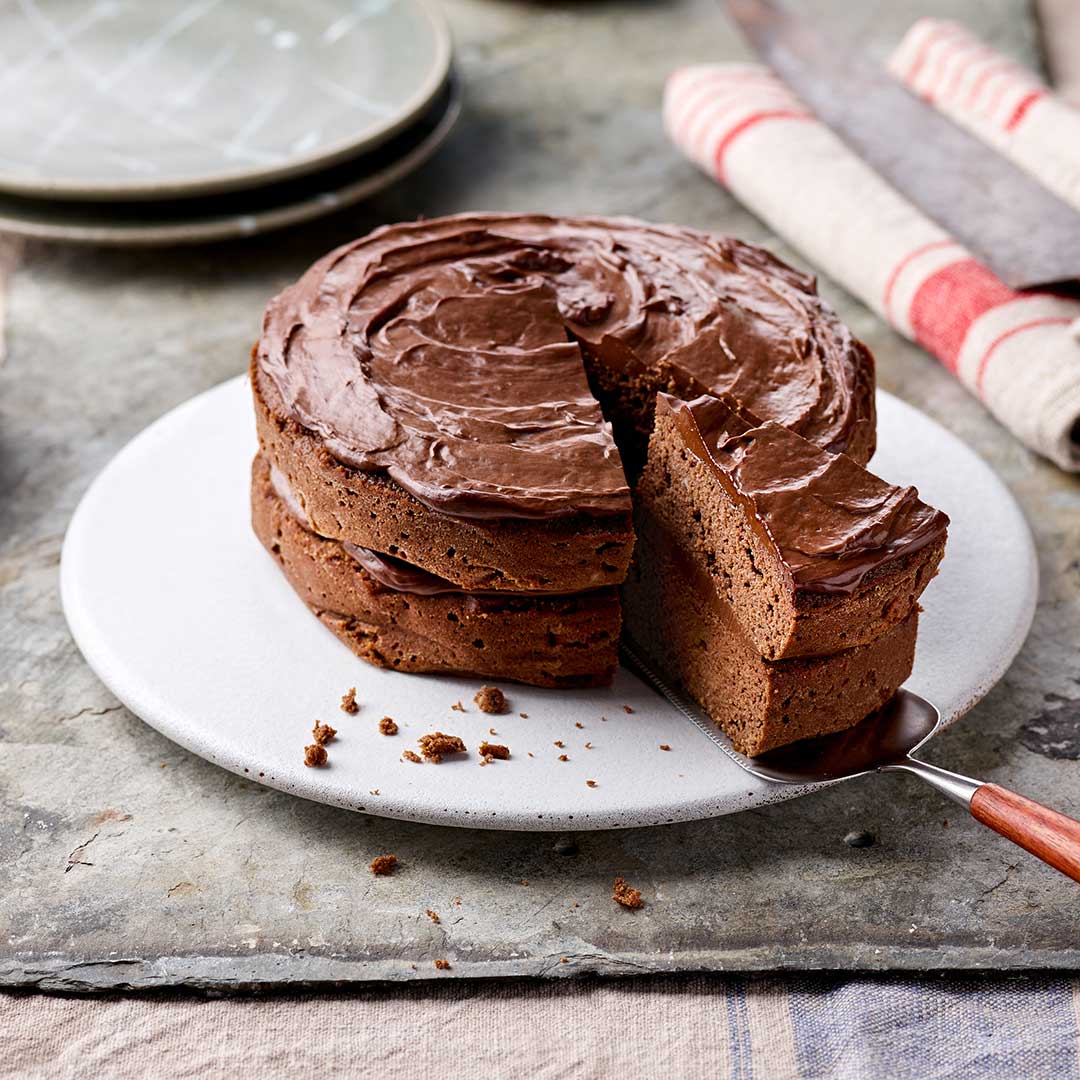 Coconut Flour Chocolate Sponge Sandwich
35-38 minutes
1 layer cake
Gluten,Nuts,Wheat
Vegetarian
About this recipe:
A delicious soft sponge layer cake combining chocolate and coconut. It is also gluten free and lower carbs if you use an alternative sweetener such as xylitol in place of the sugar. The water hydration of the coconut flour in the cake sponges means they will take longer to cook than some sponges layers.
Equipment:
2 x 18cm/7" round, loose bottom cake tins, saucepan and 3 x mixing bowls
Ingredients:
COCONUT FLOUR CHOCOLATE SPONGE LAYERS
100g butter, melted
75g Doves Farm Organic Coconut Flour
2 tbsp cocoa
1 tbsp Doves Farm Baking Powder
4 eggs
50g caster sugar or xylitol sweetener
1 tbsp vanilla extract
150ml water
butter, for tins
CHOCOLATE FILLING AND TOPPING
75g plain chocolate
125g cream
Method:
180°C, Fan 160°C, 350°F, Gas 4
Coconut Flour Chocolate Sponge Layers
Pre-heat the oven.
Rub some butter around the inside of two 18cm/7" round, loose bottom cake tins or insert a baking liner.
Melt the butter.
Measure the coconut flour into a bowl, sieve the cocoa and baking powder on top and stir to combine.
Put the eggs and sugar, into a large mixing bowl and beat together into a smooth emulsion.
Add the melted butter and vanilla extract and stir to combine.
Sieve the prepared flour mix into the bowl and beat again.
Add the water and stir to combine.
Immediately divide the mixture between the prepared tins and smooth the top.
Bake for 35-38 minutes.
Leave the sponges to cool in the tins for 5 minutes before turning them out onto a wire rack to cool.
Chocolate Filling and Topping
Break the chocolate into small pieces in a bowl.
Put the cream into a saucepan over a medium heat.
As soon as the cream comes to the boil, pour half onto the chocolate pieces.
Stir until the chocolate has melted.
Add the remaining cream, stir until smooth then leave to cool and thicken, about 5 minutes.
Put half of the chocolate onto one sponge, spread it out and put the other sponge on top.
Spread the remaining chocolate over the top sponge.