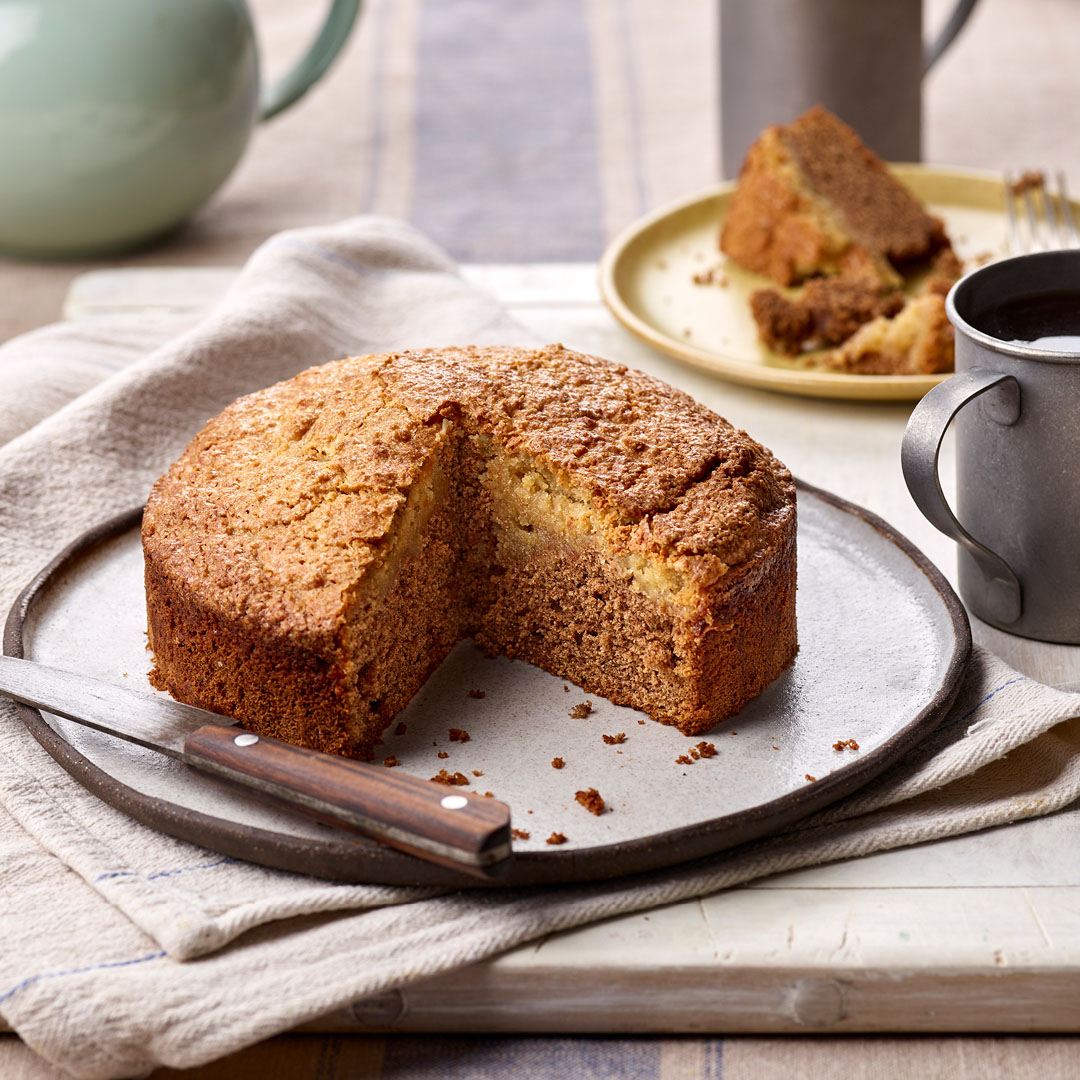 White Spelt and Cinnamon Streusel Cake
50-55 minutes
1 cake
Vegetarian
About this recipe:
Calling all cinnamon lovers, this cake was created for you! A slice of this very moreish cake which is made with White Spelt Flour goes well with a cup of tea or coffee, as a sweet treat or tasty addition in the packed lunch box.
Equipment:
18cm/7" round deep cake tin and 2 x mixing bowls
Ingredients:
CINNAMON CAKE
125g Doves Farm Organic White Spelt Flour
3 tsp Doves Farm Baking Powder
2 tbsp cinnamon
100g butter
125g caster sugar
2 eggs
3 tbsp milk
butter, for tin
STREUSEL TOPPING
100g ground almonds
125g demerara sugar
1 egg
2 tbsp milk
1 tsp icing sugar
2 cinnamon sticks, optional
Method:
180°C, Fan 160°C, 350°F, Gas 4
Cinnamon Cake
Pre-heat the oven 20 minutes before you are going to bake.
Rub some butter around the inside of a 18cm/7" round deep cake tin or insert a baking liner.
Measure the flour, baking powder and cinnamon into a mixing bowl, stir to combine and sieve into another bowl.
Chop the butter into small cubes.
Put the butter cubes into a mixing bowl, add the sugar and beat together until light and fluffy.
Break the eggs into the bowl one at a time, beating after each addition.
Tip the prepared flour blend into the bowl, add the milk, and stir to combine.
Tip the mix into the prepared tin and smooth the top.
Streusel Topping
Put the almonds and demerara sugar into a bowl and stir to combine.
Break the egg into another bowl, add the milk and then beat together.
Tip the egg mixture into the mixing bowl and roughly mix everything together with a fork.
Spread the topping over the cake.
Bake for 50-55 minutes.
Cool the cake in the tin for 20 minutes before carefully turning it out onto a rack to cool.
When cold sieve the icing sugar over the cake and decorate with the cinnamon sticks.