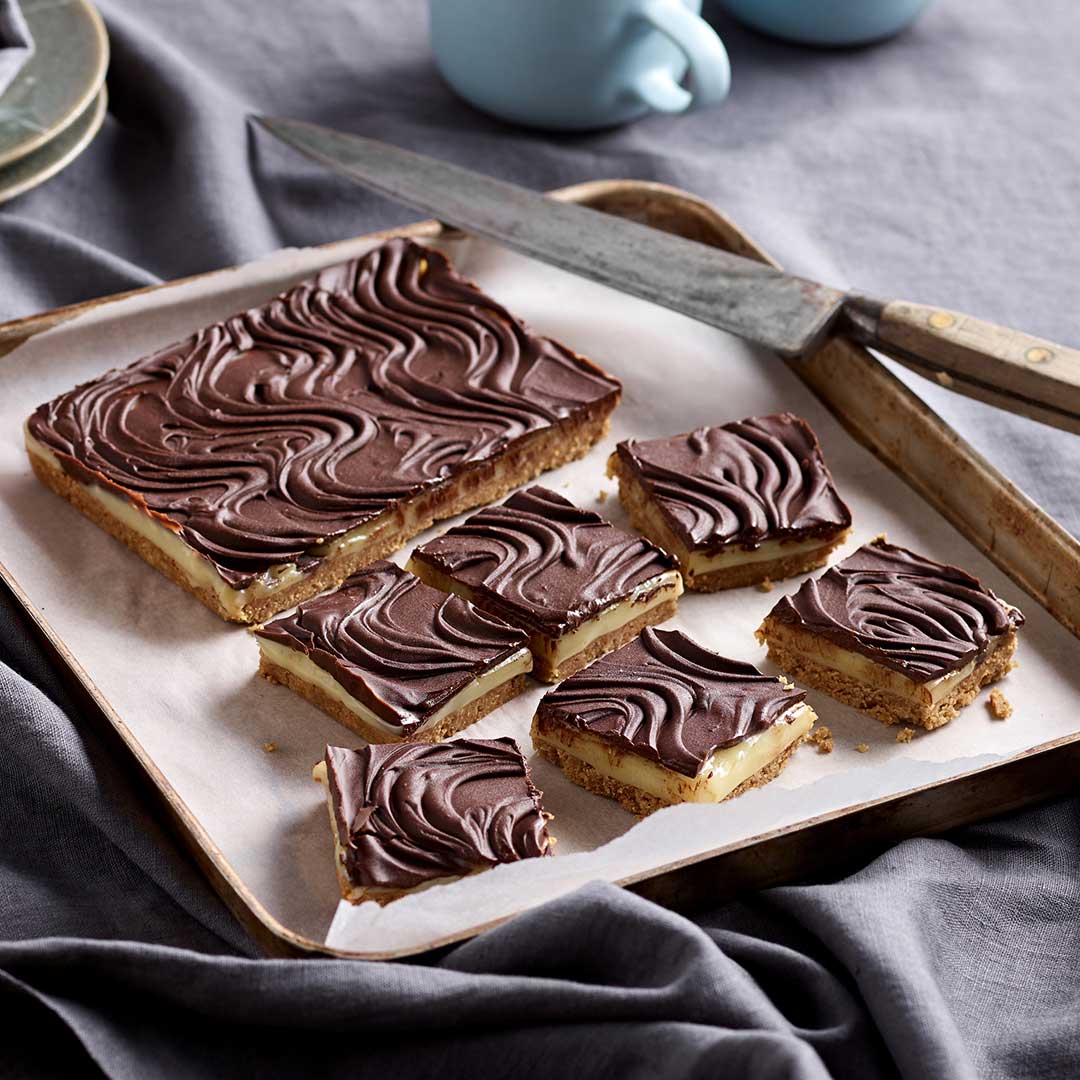 Digestive Biscuit, Caramel and Chocolate Squares
15-20 squares
Egg,Nuts
Vegetarian
About this recipe:
Made with a wholemeal digestive biscuit base, caramel layer and topped with chocolate these no-bake squares might become a rather addictive treat.
Equipment:
8×10″/20x25cm baking tray, saucepan, blender and mixing bowl
Ingredients:
DIGESTIVE BISCUIT BASE
300g Doves Farm Organic Wholemeal Digestive Biscuits
175g butter
butter, for tray
CARAMEL LAYER
75g butter
75g caster sugar
375g condensed milk
CHOCOLATE TOPPING
200g plain chocolate
25g butter
Method:
Digestive Biscuit Base
Rub some butter around the inside of an 8×10″/20x25cm baking tray or insert a baking liner.
Crush the biscuits into fine crumbs.
Gently melt the butter, add it to the biscuit crumb and mix well.
Tip the mixture into the prepared dish.
Spread the mixture out and smooth the top.
Caramel Layer
Put the butter and sugar into a saucepan over a gentle heat, stirring regularly until the sugar has dissolved.
Add the condensed milk and simmer gently for about 10 minutes until slightly thickened but without changing colour, stirring all the time.
Remove the pan from the heat and pour the caramel onto the cold biscuit base.
Spread out the caramel and leave to set.
Chocolate Topping
Gently melt together the chocolate and butter until just runny.
Stir and spread the chocolate topping over the cold caramel.
Allow to cool and set a little before using the back of a fork to create swirls in the chocolate topping.
Leave to set.
Cut into small squares and store in a tin.