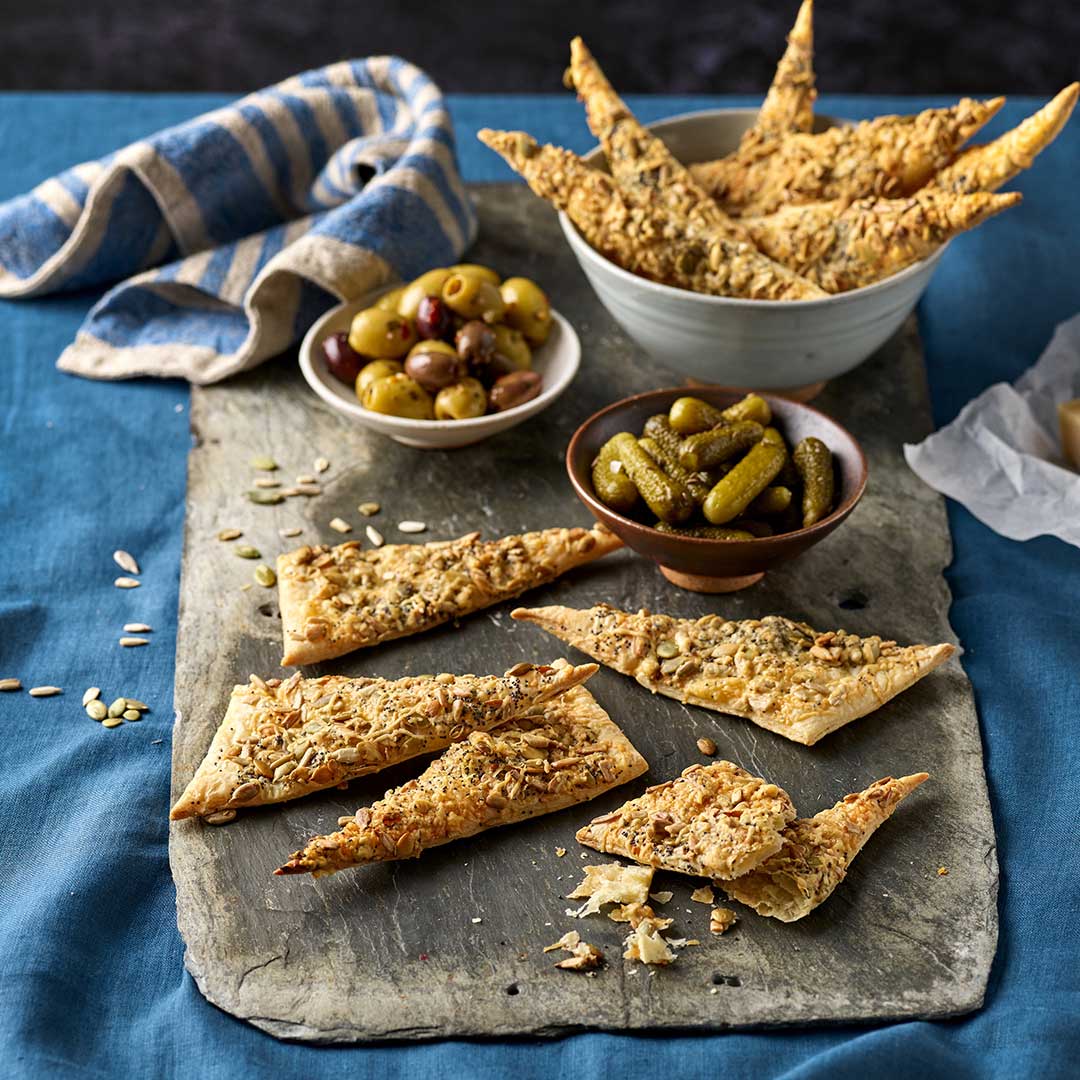 White Spelt Seeded Crackers
18-20 minutes
40-45 bites
Nuts
Without crystal sugar
About this recipe:
A great alternative to shop bought snacks. Delicious on their own or serve with a dip of your choice.
Equipment:
large baking tray and 2 x mixing bowls
Ingredients:
WHITE SPELT CRACKERS
200g Doves Farm Organic White Spelt Flour
¼ tsp salt
100g butter, chilled
7 tbsp cold water
flour, for dusting
oil, for tray
SEED TOPPING
50g cheddar, grated
20g pumpkin seeds
20g sunflower seeds
1 tbsp poppy seeds
¼ tsp salt
¼ tsp ground pepper
1 tbsp olive oil
25g grated parmesan
Method:
220°C, Fan 200°C, 425°F, Gas 7
White Spelt Crackers
Measure the flour and salt into a bowl and stir to combine.
Cut the chilled butter into small cubes or slices and divide into two equal piles.
Add half the butter to the bowl and chill the rest.
Using a fork or pastry blender, work the butter into the flour until the mixture resembles lumpy breadcrumbs.
Add the water to bring together a soft pastry dough. If this does not happen easily add a teaspoon of water.
Lightly flour the work surface put the pastry in the middle and dust it with flour.
Roll the pastry into a 20x25cm/8×10" rectangle.
Fold the left-hand side of the pastry onto the middle third and the right-hand side on top of that.
Cover the pastry and chill for 10 minutes.
Dust the work surface and chilled pastry dough with flour.
For a second time, roll the dough into a 20x25cm/8×10" rectangle.
Spread the remaining prepared butter over the middle of the pastry rectangle, leaving pastry on either side.
Lift the left side of the pastry over the butter, and the right-hand side on top of that.
Press around the edges to enclose all of the butter.
Cover and leave to chill for at least 10 minutes.
Seeded Topping
Pre-heat the oven.
Remove the pastry from the fridge and if very cold and hard, allow it to come back to room temperature.
Rub some oil around the inside of a large baking tray or insert a baking liner.
Grate the cheddar cheese into a bowl, add the pumpkin seeds, sunflower seeds, poppy seeds, salt, pepper and olive oil.
Mix together well.
Dust the work surface and the dough with flour.
Roll the dough into a rectangle 3mm/⅛" thick.
Spread the prepared cheese mixture over the pastry and sprinkle with grated parmesan on top.
Slice the dough into diamond shapes and transfer them to the prepared baking tray.
Bake for 18-20 minutes.
Transfer the diamonds to a wire rack to cool.
Store the cold crackers in an airtight tin.
Serve cold or gently warmed.