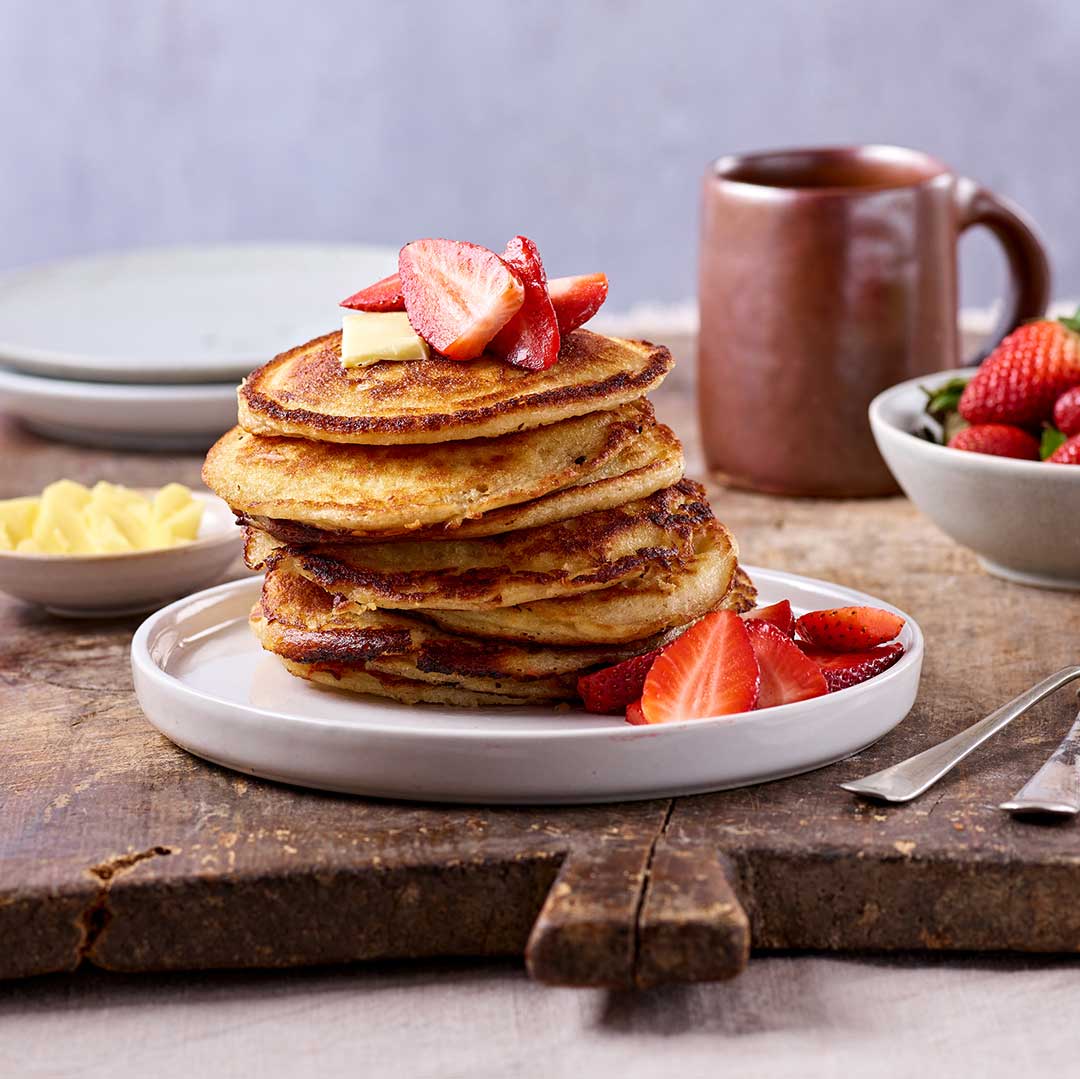 Buttermilk Pancakes
No reviews yet. Be the first to review this recipe.
15 minutes
10-12 pancakes
Nuts
Vegetarian
About this recipe:
Buttermilk is a key ingredient in this recipe for light fluffy pancakes. We like to serve these warm with a little butter and fresh strawberries but you could choose lemon and sugar or simply drizzle them with maple syrup.
Equipment:
frying pan, 2 x mixing bowls or jug
Ingredients:
75g butter, melted
125g Doves Farm Organic Self Raising White Flour
2 tbsp icing sugar
½ tsp Doves Farm Bicarbonate of Soda
pinch of salt
3 eggs
250ml buttermilk
butter, for cooking
Method:
Melt the butter.
Put the flour, icing sugar, bicarbonate of soda and salt into a large bowl or jug and stir to combine.
Break the eggs into another bowl, add the buttermilk and beat together.
Put a little butter into a frying pan over a medium heat. As the butter melts roll the pan around so that the butter just covers the surface.
Pour half the egg mixture into the prepared flour and beat until smooth.
Beat in the remaining mixture.
Stir in the melted butter.
Pour or scoop small mounds of the pancake mixture into the hot pan.
Cook the pancakes, loosening the edges, until the base is golden.
Turn the pancakes over and cook the other side.
Transfer the pancakes to a plate.
Repeat until the batter is used.
Leave a review?