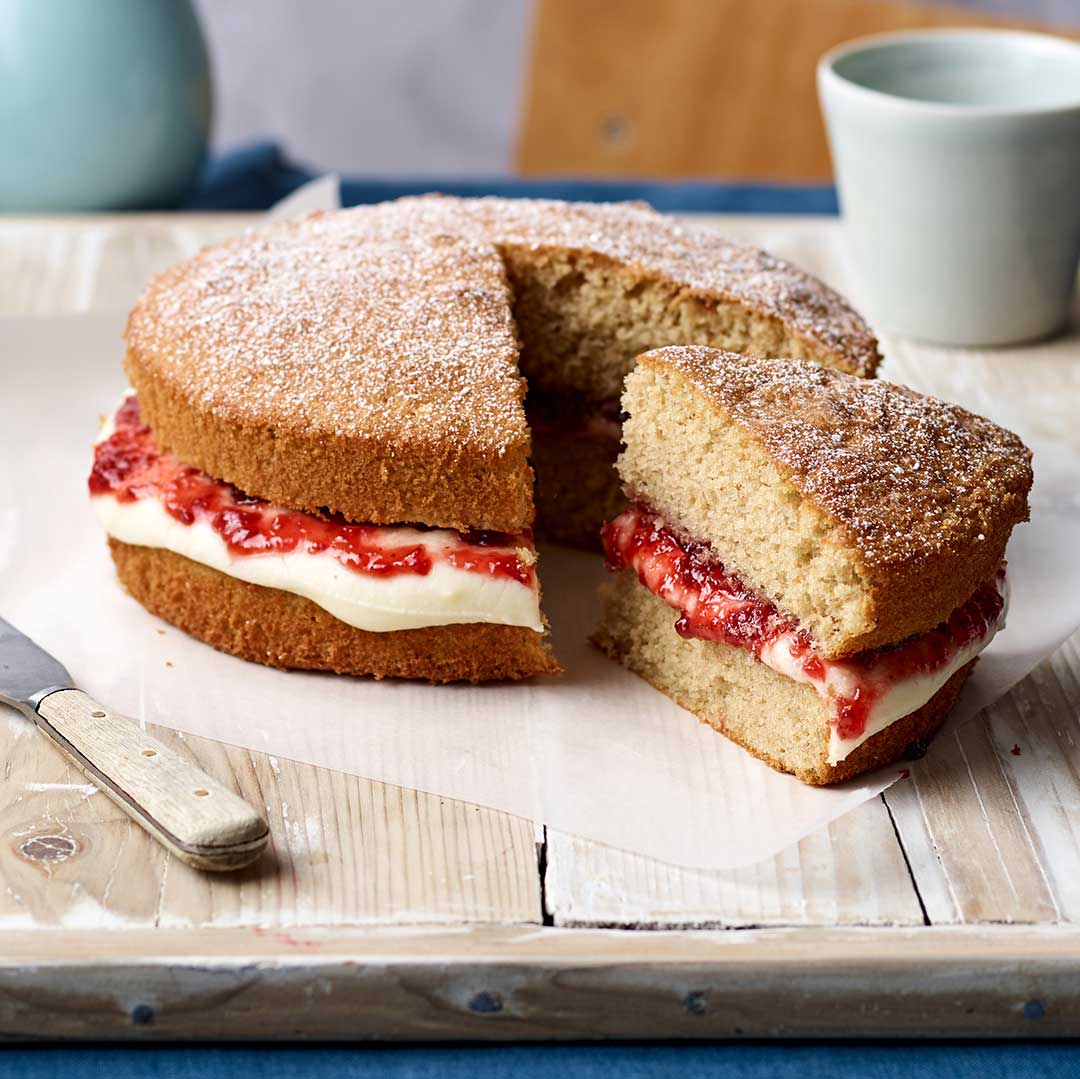 Buckwheat Flour Victoria Sponge Layer Cake
30-35 minutes
1 layer cake
Nuts
Vegetarian
About this recipe:
This delicious Victoria sponge sandwich, baked with buckwheat flour, can be a great addition to your wholegrain baking repertoire.
Equipment:
2 x 18cm/7" round cake tins, blender or electric beaters and 2 x mixing bowls
Ingredients:
BUCKWHEAT SPONGE LAYERS
175g butter
175g Doves Farm Organic Wholemeal Buckwheat Flour
3 tsp Doves Farm Baking Powder
175g caster sugar
4 eggs
1 tbsp milk
butter, for tins
BUTTERCREAM AND JAM FILLING
100g icing sugar
50g butter
1 tsp milk
4 tbsp jam
icing sugar, for dusting
Method:
180°C, Fan 160°C, 350°F, Gas 4
Buckwheat Sponge Layers
Pre-heat the oven.
Rub some butter around the inside of two 18cm/7" round cake tins or insert a cake liner.
Chop the butter into small cubes.
Measure the flour and baking powder into a bowl and stir to combine.
Put the sugar into a mixing bowl or kitchen blender, add the butter cubes and beat until smooth.
Break the eggs into the bowl, sieve in the flour and add the milk.
Beat or pulse until mixed.
Scrape down the sides of the bowl and mix a final time.
Divide the mixture between the prepared tins and smooth the top.
Bake for 30-35 minutes.
Turn the cakes out onto a wire rack and leave to cool.
Buttercream and Jam Filling
Measure the icing sugar into a mixing bowl.
Add the butter and milk and mix into a buttercream paste.
Spread the buttercream over one cold cake layer.
Spread the jam over the buttercream.
Place the second sponge layer on top.
Dust lightly with icing sugar.