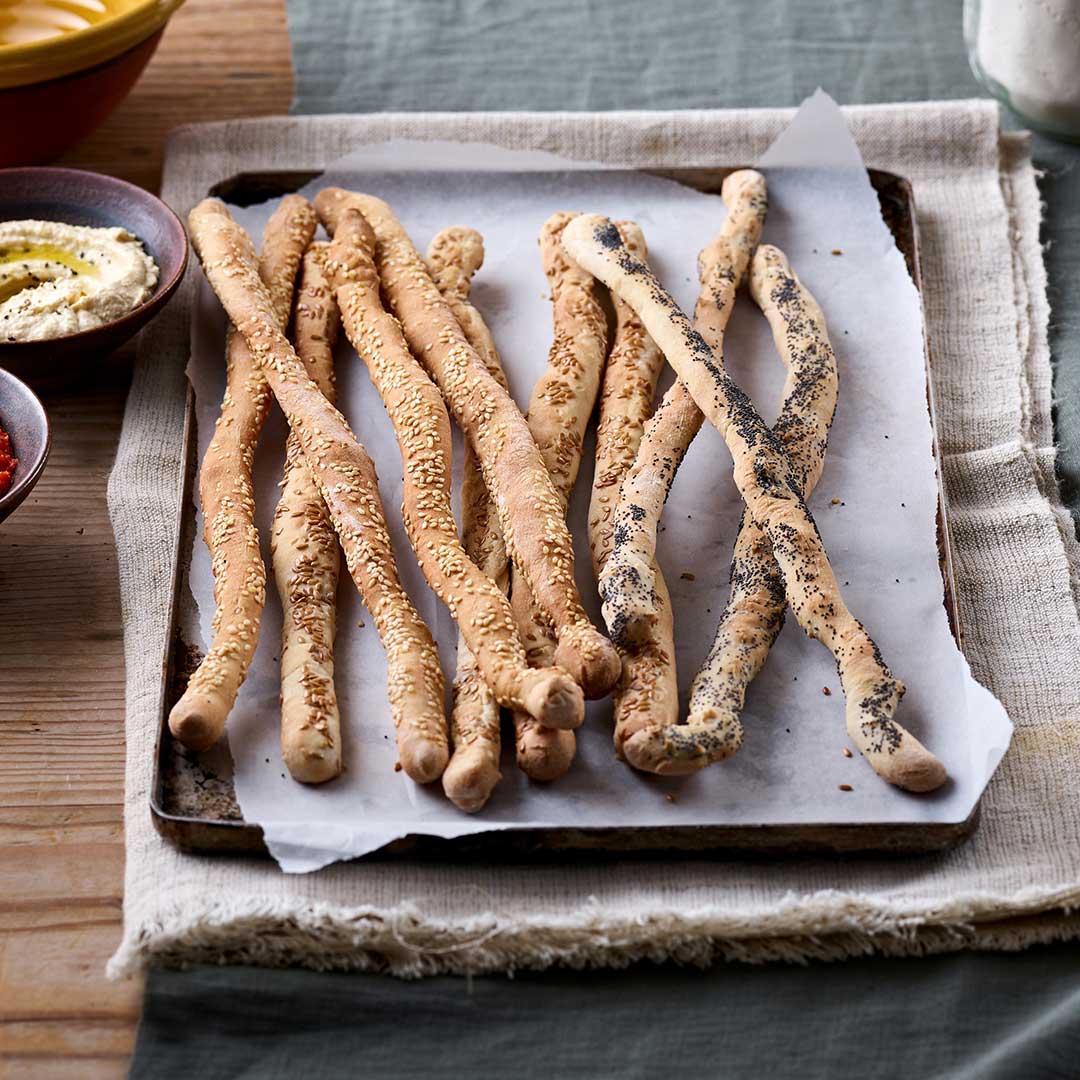 Breadsticks
No reviews yet. Be the first to review this recipe.
8-12 minutes
64 breadsticks
Dairy,Egg,Nuts
Vegan,Vegetarian
About this recipe:
Homemade breadsticks are a delicious and economical snacking treat. Here is the recipe to make them from scratch with the option of adding some tasty linseeds, poppy seeds or sesame seeds. For a small quantity of breadsticks take 100g dough from your next bread making session, roll it into 8 sticks which can be cooked before your bread goes into the oven. Children always enjoy making breadsticks as they can be made, baked and ready to eat relatively quickly.
Equipment:
2 x large baking trays, clean tea towel and mixing bowl
Ingredients:
500g Doves Farm Organic Strong White Flour
1 tsp Doves Farm Quick Yeast
1 tsp sugar
325ml tepid water
1 tsp salt
1 tbsp olive oil
oil, for trays
OPTIONAL SEED DRESSING
1 tbsp sesame seeds, poppy seeds or linseeds
Method:
200°C, Fan 180°C, 400°F, Gas 6
Rub some oil around the inside of two large baking trays or insert a baking liner.
Put the flour, yeast and sugar into a large bowl and blend them together.
Add the water and stir until lumpy,
Sprinkle the salt over the top and stir to combine.
Stir in the oil and mix everything together.
Using your hands gather everything together, gently pressing into a slightly sticky ball of dough.
Knead the dough in the bowl for 100 presses. Avoid adding flour.
Cut the dough into four and cut each piece into 5, making 20 small pieces of dough.
Roll each piece of dough into a cylinder about 10cm/4" long.
Return to each dough piece and roll it into a 20cm/8" cylinder.
Finally roll all the dough pieces into 30cm/12" long cylinders, the thickness of a pencil.
Sprinkle the chosen seeds over the breadsticks and gently roll each breadstick back and forth so a few seeds stick to each one.
Transfer the dough cylinders to the prepared baking trays, making sure the breadsticks do not touch each other.
Cover with a clean tea towel and leave in a warm place to rise for 30-60 minutes.
Pre-heat the oven 20 minutes before baking.
Remove the tea towel and bake for 5 minutes.
Carefully take the baking trays out of the oven and roll each breadstick over.
Return the baking trays to the oven and bake for a further 3-7 minutes or until golden brown.
Leave to cool on a wire rack.
Leave a review?